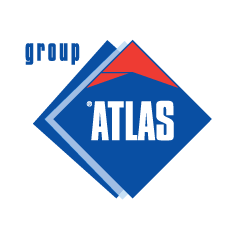 ATLAS Group is a Polish manufacturer of construction chemicals acting on the international market, a significant business partner in Central and Eastern Europe. The Group history dates back to 1991, when three residents of Łódź, Grzegorz Grzelak, Andrzej Walczak and Stanisław Ciupiński, set up a company producing an adhesive for tiles. Within a few years it became an undisputed leader of the Polish market. Nowadays, ATLAS Group comprises 18 entities, including 4 ones located abroad: in Russia, Belarus, Latvia and Romania. 16 plants process raw materials delivered from 5 group-owned mines of gypsum, anhydrite and quartz sand.
The holding includes also a forwarder and an energetic company. It employs over 2,000 people. Outstanding company standards are confirmed, among many others, by European Technical Assessments and implemented, recorded and executed Integrated Management System comprising: quality management (ISO 9001:2008), environmental management (ISO 14001:2004 + Cor 1:2009) and occupational health and safety management (BS OHSAS 18001:2007). The financial results allow the holding to engage actively in social actions.
ATLAS Charity Foundation, set up in 1996, helps people in need and transferred over 60 million PLN for this purpose. ATLAS of Art, set up in 2003, is an unique corporate social responsibility project. It exhibits contemporary art and is listed among the best private owned art galleries in Poland. Since 2009 ATLAS has been a titular sponsor of ATLAS Arena in Łódź – one of the biggest and most advanced sport and entertainment halls in Poland.